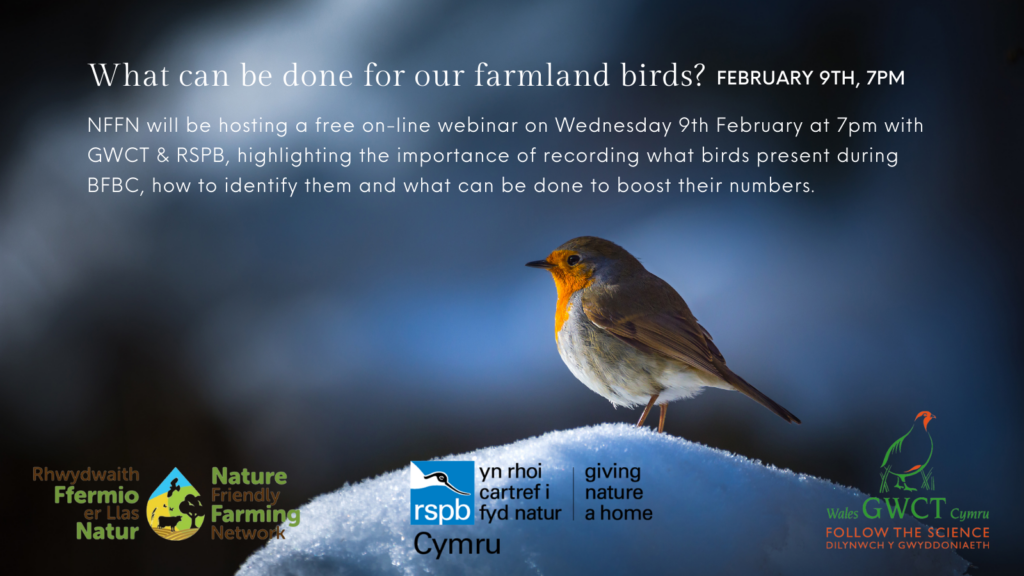 The GWCT's Big Farmland Bird Count (BFBC) is pleased to announce a FREE collaborative online webinar on the 9th of February at 7pm to help record what farm birds are present at this time of year during the official count from February 4th – 20th. You can register for the FREE webinar here.
The Nature Friendly Farming Network (NFFN) will be hosting the free on-line webinar to highlight what can be done for our farmland birds and how to take part in the Game and Wildlife Conservation Trust's (GWCT) Big Farmland Bird Count.
Chaired by NFFN's Cymru Sustainable Farming Lead, Wales Rhys Evans, the event will highlight the importance of recording what birds are present, how to identify them and what can be done to boost their numbers.
Matt Goodall GWCT Head of Education and Wales advisor, and Rhian Pierce RSPB Conservation Office, will be discussing the importance of this years' count and how to take part, including the birds that we might see. They will also discuss some ideas on that can be implemented on farms to further boost birdlife.
"We are delighted to be in partnership with both the NFFN and RSPB to discuss the BFBC which is in its ninth year attracting over 2,500 farmers," says Matt, who urges more Welsh farms to record their birds so that we can highlight the great work that is being done. Recording birds in winter can really highlight what your farm is providing, and also provides a baseline which can be measured against in future years, something that will become more important as we move towards the future Sustainable Farming Scheme.
"We also want to impress that this 'hungry gap' time of the year means more can be done to help farmland birds better survive the winter and enter the breeding season in a favourable condition which maximises breeding potential" he adds.
Rhys Evans from NFFN says: "Managing and creating habitats for wildlife is likely to feature prominently in future agricultural payments and schemes, so it's important for us as farmers to know what biodiversity we have on our land – after all you can't manage what you don't measure! Whether you're an avid twitcher or can't tell your house sparrow from your dunnock – this session will offer something for all."
Rhian Pierce from RSPB is keen to get farmers engaged. "Farmers have an excellent eye for detail, whether it is spotting illness in livestock or growth stages in their crops. Therefore, with a few tips we can help make identifying different bird species second nature! Bird ID will be an excellent skill for future schemes where self-assessment may become more and more critical".
Register for the FREE webinar here >
The BFBC is sponsored by the NFU and supported by many partners.
Count recording sheets and ID guide sheets are available and can be downloaded from the BFBC site, or alternatively a good i.d. book and a notepad can be used to record species and tally up estimated numbers. The count takes just 30 minutes out on the farm recording your farmland birds, and we then ask you upload your count information to the website above or send the results in on the count recording sheet by post if necessary. All the information needed to take part in this year's BFBC can be found on the BFBC website.
---
Time to get counting farmland birds in Wales: FREE webinar