This week is Solitary Bee Week which aims to raise awareness of solitary bees and their vital importance to pollination. 90% of all bee species are solitary, and many of them are much better pollinators than their better-known bumble and honeybee cousins.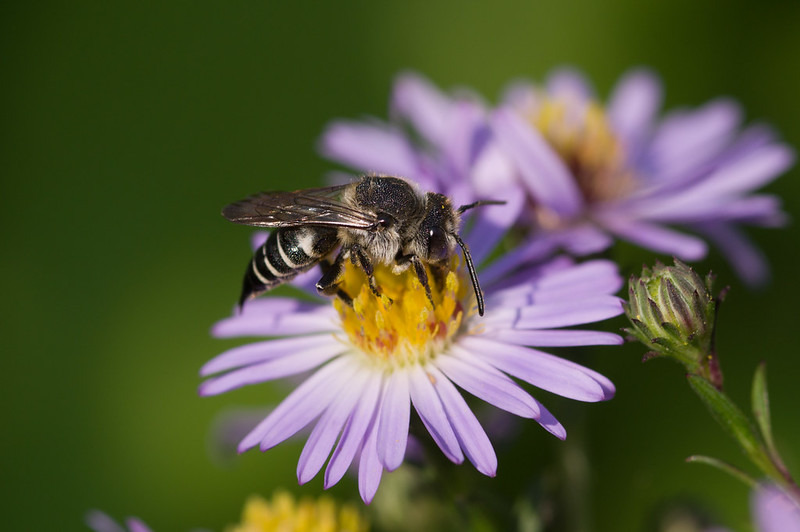 Following our recent news story about solitary bees and the release of the new BEESPOKE guide, Solitary Bees of the United Kingdom, Tony Stutely got in touch. He told us a little about his own inspiring efforts to support solitary bees in his garden and beyond, which we share with his kind permission below. Many of Tony's ideas are suitable even for the smallest outdoor space. Tony told us:
"I have just learned of 'Solitary Bee Week', although I have been an advocate of solitary bees for years.
"I have had to increase my bee houses from two to five now and plan on making another before the summer is out, as they are filling up.
"I have recently made three bee houses, ranging from 40 to 50 nesting holes, for family members," explained Tony, who has also been busy making bee houses for local schools. This afternoon, I made my first 'starter-bee-home'.
"It is my idea to give 'starter-bee-homes' to family members who, at this time have no solitary bees nesting with them, in the hope that, when the new bees emerge, they will start the population of the new homes."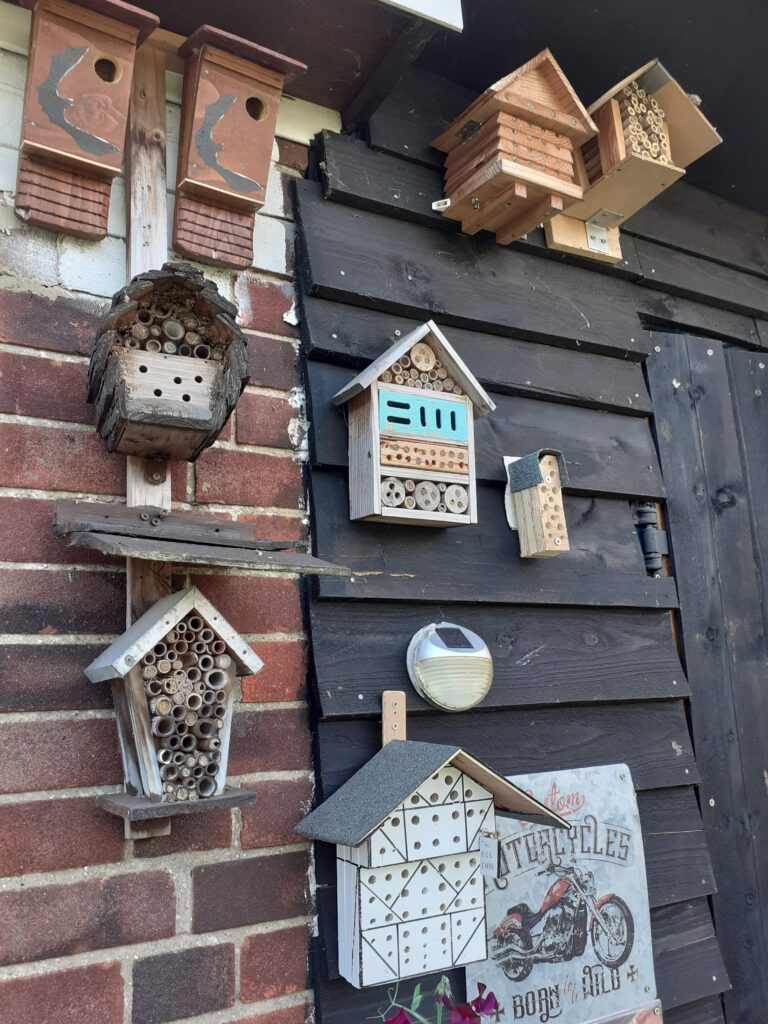 And it is not just bees who are benefitting from Tony's efforts:
"We have a small garden, where we have several fruit trees and bushes, besides a varied amount of bee and butterfly friendly flowers. Our nasturtiums attract mostly Large and Small White butterfly, providing a place for them to lay their eggs, to such an extent that I have been harvesting the caterpillar. This protects them from the juvenile wasps, which use them for food.
"This year I have released 382 butterfly. Lower than last year which was almost 500. The beginning of this week saw the first batch of eggs this year."
Tony's garden also features bird houses, tucked in behind some foliage above the bee houses, and hanging baskets and beds planted with pollinator-friendly plants.
One of Tony's most recent builds is a Tudor style bee house, created for a local school, complete with hanging 'inn' sign featuring the school's emblem. "I was also asked to make a hedgehog house," said Tony.
"Some of my bee houses were bought for me," said Tony but, having firmly got the bug for bees, he began making his own. "One I made using bamboo and I modified another to house more bees. My 'bee starter home' has no occupants just yet and the Tudor house is off to its new home in the school this week."
To learn more about the research and monitoring of solitary bees visit BEESPOKE. For more ideas on how to support solitary bees visit Solitary Bee Week.
---
Bee inspired by Tony's 'starter homes' for bees