Working alongside the local fire service, Matthew Bushby is using prescribed burning to reduce the risk of wildfires in the Mourne Mountains AONB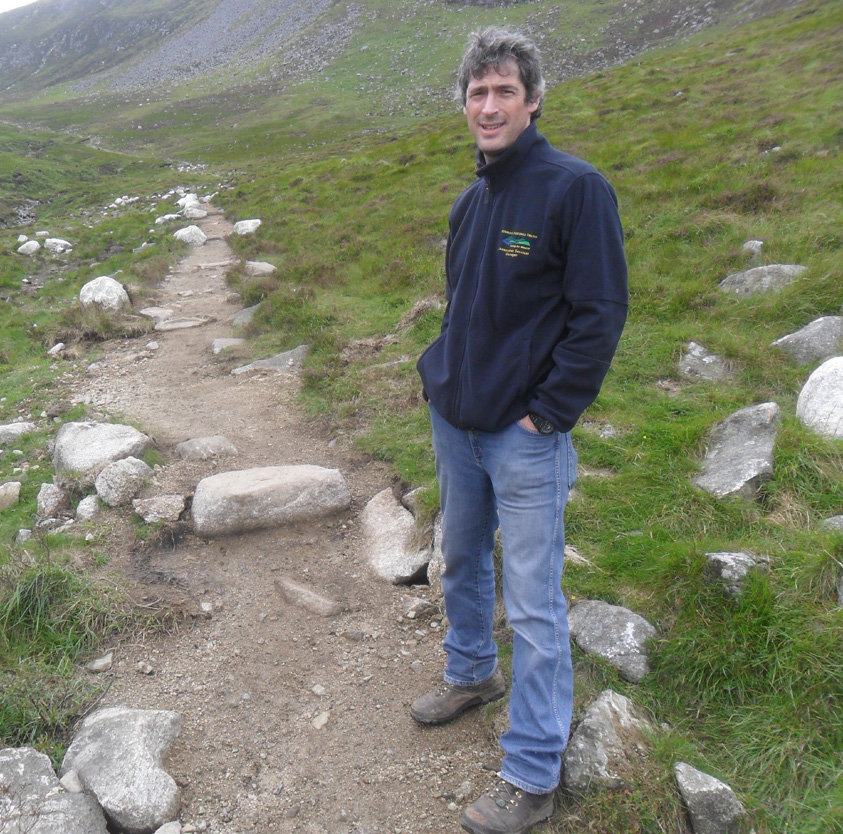 The Eastern Mourne Mountains in County Down on the southeast corner of Northern Ireland rise dramatically from the sea, crowned by the 852m Slieve Donard, the highest peak in the province. As well as being a major water catchment, the area is designated for its upland habitat and geological features and receives tens of thousands of visitors every year. In the past, the heather, gorse, and grass-clad slopes grazed by mountain sheep were not as susceptible to wildfire due to the wet climate. However, more recently the number of larger wildfires has risen. At one point in 2011 every fire appliance in Northern Ireland, bar one, was out fighting wildfires. In April 2021, a fire on the side of Slieve Donard destroyed a huge swathe of valuable habitat, destroying the eggs of ground-nesting birds. Agriculture Minister Edwin Poots said it was "shockingly sad" that extensive damage had been "done to an AONB".
Project area
Location: Mourne Mountains AONB, Northern Ireland
Size: 7,000 hectares
Habitat type: Dry heath, wet heath, montane heaths and grasslands and blanket bog
Type of agriculture: Sheep and cattle
Funding grants: Joint funded by Northern Ireland Water, Northern Ireland Environment Agency and the Northern Ireland Fire and Rescue Service
Conservation measures: Cutting, burning and grazing
As well as the environmental loss, the financial cost of fire can be huge. In 2004, a blaze began near Silent Valley reservoir, which provides water for Belfast. After burning for days, it cost Northern Ireland Water (NIW), one of the largest landowners in the area, about £250,000 in additional water treatment. In April 2011, dry conditions and an easterly wind pushed a blaze across the Eastern Mourne Mountains, comprehensively burning 1,000 hectares, costing NIW between £80,000-£100,000. This event inspired the development of a pilot wildfire project covering 7,000 hectares. It was funded jointly by NIW, the Northern Ireland Environment Agency (NIEA), and Northern Ireland Fire and Rescue Service (NIFRS), supported by the Mourne Heritage Trust (MHT), the body responsible for the Mourne Mountains AONB.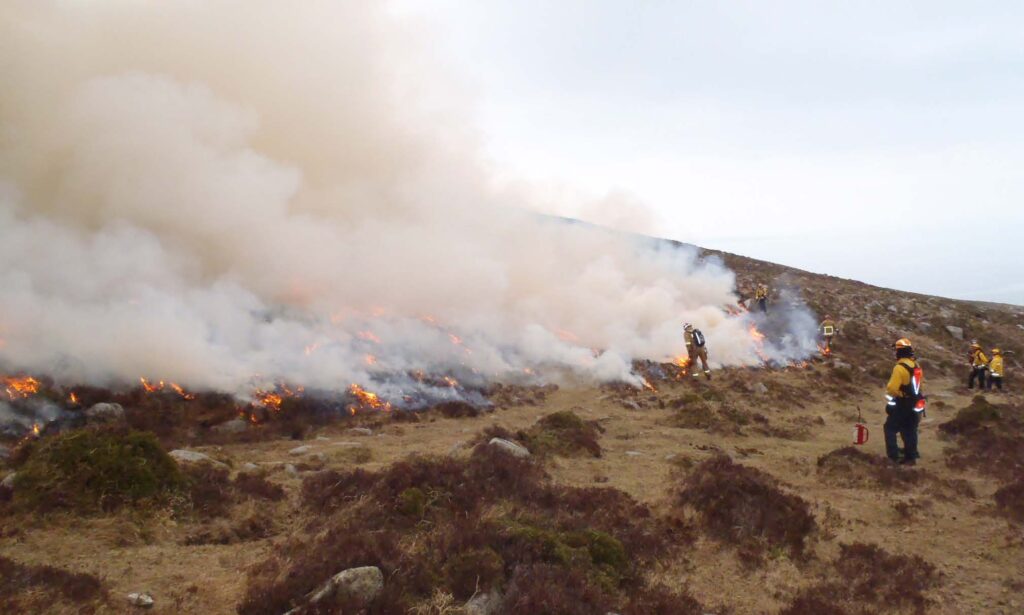 The group commissioned a report by the Wildfire Advisory Service, which employed computer modelling to identify fire pathways and prioritise management measures. Published in 2012, it concluded that along with developing a site wildfire plan and enhancing emergency response capacity, the most effective approach would be to carry out land management, including prescribed burns, in areas identified as 'gateways'. By reducing the vegetation cover or fuel load in these areas, it would slow down a blaze and give firefighters a chance to control it. It also recommended the use of "operational burns" as an advanced tactic during a wildfire.
It stated: "It is of the utmost importance that the NIFRS develops the capability to successfully suppress high-intensity fires. Ideally, this should include the use of fire as a defensive and offensive tactic. […] Fine fuel and dead fuel loading should be lowered significantly. […] Prescribed burning is the most effective method in terms of time and costs."
The Mourne Wildfire Group was established with MHT Countryside Service Manager Matthew Bushby as chair, to implement the report's recommendations. There is no grouse management in the Mourne Mountains, so they could not draw on the local gamekeepers' expertise or equipment used in prescribed burning as UK Fire and Rescue Services do, for example, in the English and Scottish uplands. Instead, Matthew and two colleagues along with NIFRS personnel, led by Mark Smyth, underwent formal training in Catalonia in the tactical use of fire. On their return, they passed on the knowledge to the wider MHT team, which fitted the extra work into their schedules. Matthew said: "The Trust's small field team have very broad skills, which meant we were able to deliver prescribed burns as an organisation. There was very limited additional funding, so we used training budgets and the NIEA secured small amounts of money for kit on an ad hoc basis, along with some Heritage Lottery support."
A significant part of the project is to trial how prescribed burns can be used specifically for fuel management to help mitigate wildfire damage and in firefighting. In this way, it is different from controlled burning on grouse moors, which was traditionally done to improve habitat for grouse. However, the technique used by Matthew and his team is similar to that employed by gamekeepers. The 'cool burns' take off the surface vegetation rather than burn into the peat and take place in March when dry conditions are more likely. Like gamekeepers, the team use drip torches with a mix of petrol and diesel to light the designated area, and generator-driven water pumps and backpack sprayers to help suppress the flames. Matthew's team can manage smaller burns say of half a hectare, but for areas of up to 6-10 hectares, they work with NIFRS, who lay out a ring main of water to contain any outbreaks. Some of these larger burns have involved up to 30 people serving as training sessions for NIFRS and the MHT team.
Matthew explained: "On one prescribed burn when the Northern Irish version of Countryfile, Home Ground, came to film there were six of us and 20 firefighters. NIFRS oversaw us managing the burn which showed a lot of trust, and an excellent example of joint working. It is about removing as much of the brash as possible without damaging the surface vegetation, particularly sphagnum."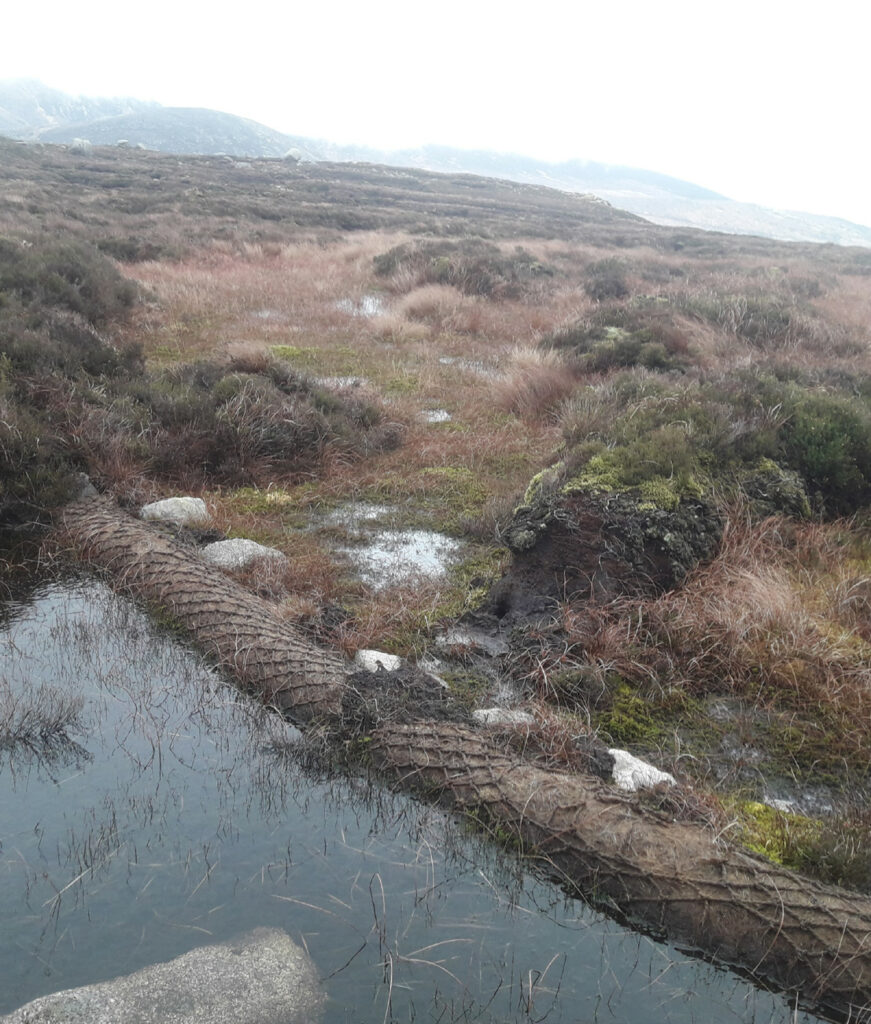 Besides burning, MHT has employed a range of techniques to build resilience against wildfire and help recovery including rewetting, cutting and grazing. For example, in areas where peat is degraded, creating bunds to slow the flow of water off the hill helps restore soils and specialist plants and raises the water table. But in many wildfire 'gateways' the conditions make prescribed burning a more effective and efficient technique to reduce the fuel load, at least initially, after which grazing can help manage the vegetation. In places where the gorse is over 2m, cutting can work better than burning but flails leave the brash on the ground, which is more combustible than living vegetation. It is difficult to use mowers on much of the Mourne Mountains, whose granite rocks damage machinery, and its steep slopes are impassable for vehicles. Matthew said: "There are significant limitations to cutting and it's difficult for livestock to tackle very mature vegetation."
It is important to remember that fire has been part of these open landscapes for thousands of years

Matthew Bushby
A risk of burning is that it can negatively change the vegetation. For example, Molinia grass can dominate, but the MHT team has found, if carefully managed, livestock can be used to preserve the original plant assemblage. Matthew said: "It is important to remember that fire has been part of these open landscapes for thousands of years. Burning the surface layer stimulates heather seed because it responds to heat. On our sites there is a concern that prescribed burning would put the habitat into an unfavourable state, but this has not been evidenced so far. We've done it in a carefully planned way avoiding the negative impacts. One of the main issues is how to sustain the resources needed for such a bespoke approach."
The NIFRS team has also learned to use operational burns in firefighting, which slow the progress of a blaze by reducing the fuel load and creating a break. In April 2021, Matthew's team supported NIFRS with an operational burn that prevented a fire leaping over a small brook and spreading into a 300-hectare area beyond. Matthew said: "What we've been learning through prescribed burns has been invaluable in firefighting. The practical partnership between us and NIFRS and the support of the landowner, NIW, and NIEA has been the key."
However, he is concerned that as climate change predictions show a worsening wildfire problem, the partnership that is the Mourne Wildfire Group will struggle to manage the situation. He said: "We've done very well but we cannot go on without more equipment and manpower. The Northern Ireland Government could fund an agency to be a wildfire response support body. They would need people like us on call who have the land knowledge and the skills."
Matthew hopes policymakers in Northern Ireland will support the development of a national wildfire strategy that incorporates burning as part of its approach. He said: "We've been able to show some success, so hopefully that will inform Northern Ireland's national wildfire strategy, which is currently being drafted. Area Commander Mark Smyth of NIFRS has been at the forefront of the drive for a national wildfire strategy, and he is a strong advocate for using managed burns as a tool within the strategy."
Looking ahead, as well as prescribed and operational burning, Matthew would like to use grazing and rewetting more widely as part of an integrated land management plan to achieve a range of objectives including moorland restoration, increased biodiversity, carbon capture, and wildfire mitigation. He said: "It's important to share knowledge and experience. I know Moors for the Future are using rewetting in the Peak District. We should be learning from them and working with organisations like the Game & Wildlife Conservation Trust studying the impacts of prescribed burns. We have to follow the science and experience of wider site managers as it develops. The main thing is to keep all the management tools available and the flexibility to be able to apply them carefully and effectively."
The practical partnership between us and the NIFRS has been key

Matthew Bushby